Evoplay Entertainment is a game development studio which was founded in 2018 when they unveiled the industry's first 3D/VR slots game at the London ICE show.
Today Evo boasts a portfolio including more than 84 slots, table, and instant games. Their main offices for development centre in Ukraine and a commercial office is setup in Malta. The company has also established partnerships and built up a reputable network throughout Asia, the CIS and Europe.
ADVANTAGES
Evoplay Entertainment aspire to develop reputable products to ensure users get the best playing experience. Our key philosophy is to create remarkable uncompromising things that will make the gaming experience better. Evoplay are open for cooperation and ready to bring any customer's ideas to life.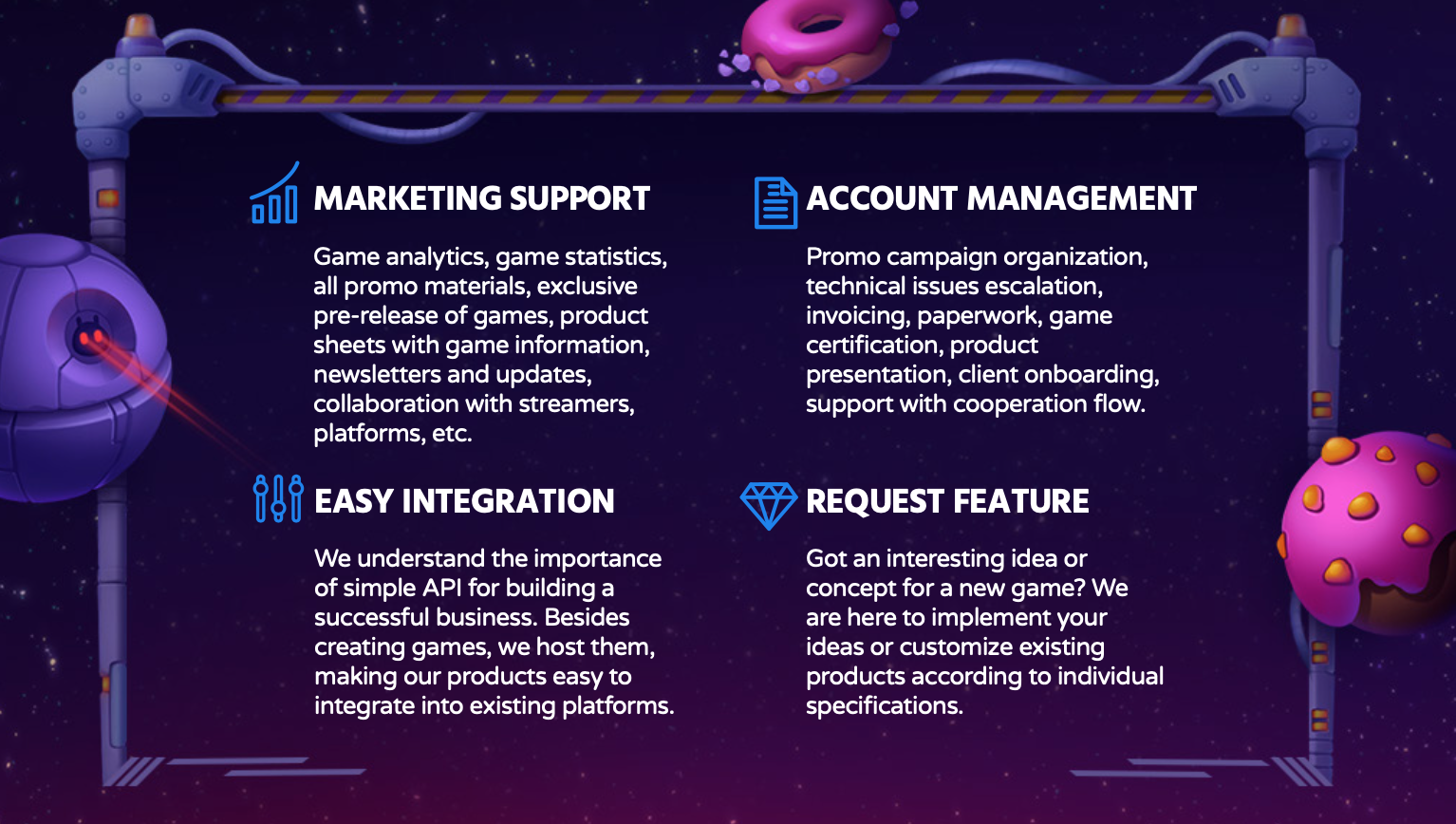 FULLY MOBILE AND TABLET ADAPTIVE
Our games have an adaptive design capable to recognize device a player uses. Products seamlessly work on PC, tablets and smartphones. Enjoy playing our software on the go!
FULL HD
We manufacture online games that offer Full HD resolution, bringing animation and video effects to the whole new level. Today few manufacturers can boast of such feature.
FREE BETS MANAGMENT
The customers can always customize bet values (min bet, max bet, etc.) of our games according to their vision.
CURRENCY
Our games support all major currencies and crypto-currencies (106 e.g). Let us know what currency you would like to work with.
LANGUAGES
Our games are available in 6 languages. We always can add any new language on customer's request.
AAA QUALITY
We offer AAA online games developed with the highest development budgets and resources. We aim to create exceptional playing products for successful business.
OUR ADVANTAGES MARKETING SUPPORT
Game analytics, game statistics, all promo materials, exclusive pre-release of games, product sheets with game information, newsletters and updates, collaboration with streamers, platforms, etc.

EASY INTEGRATION
We understand the importance of simple API for building a successful business. Besides creating games, we host them, making our products easy to integrate into existing platforms.
ACCOUNT MANAGEMENT
Promo campaign organization, technical issues escalation, invoicing, paperwork, game certification, product presentation, client onboarding, support with cooperation flow.
REQUEST FEATURE
Got an interesting idea or concept for a new game? We are here to implement your ideas or customize existing products according to individual specifications.
LICENSES & CERTIFICATES LICENSES
GAME CERTIFICATES
TOP GAMES ASIA
TOP GAMES EUROPE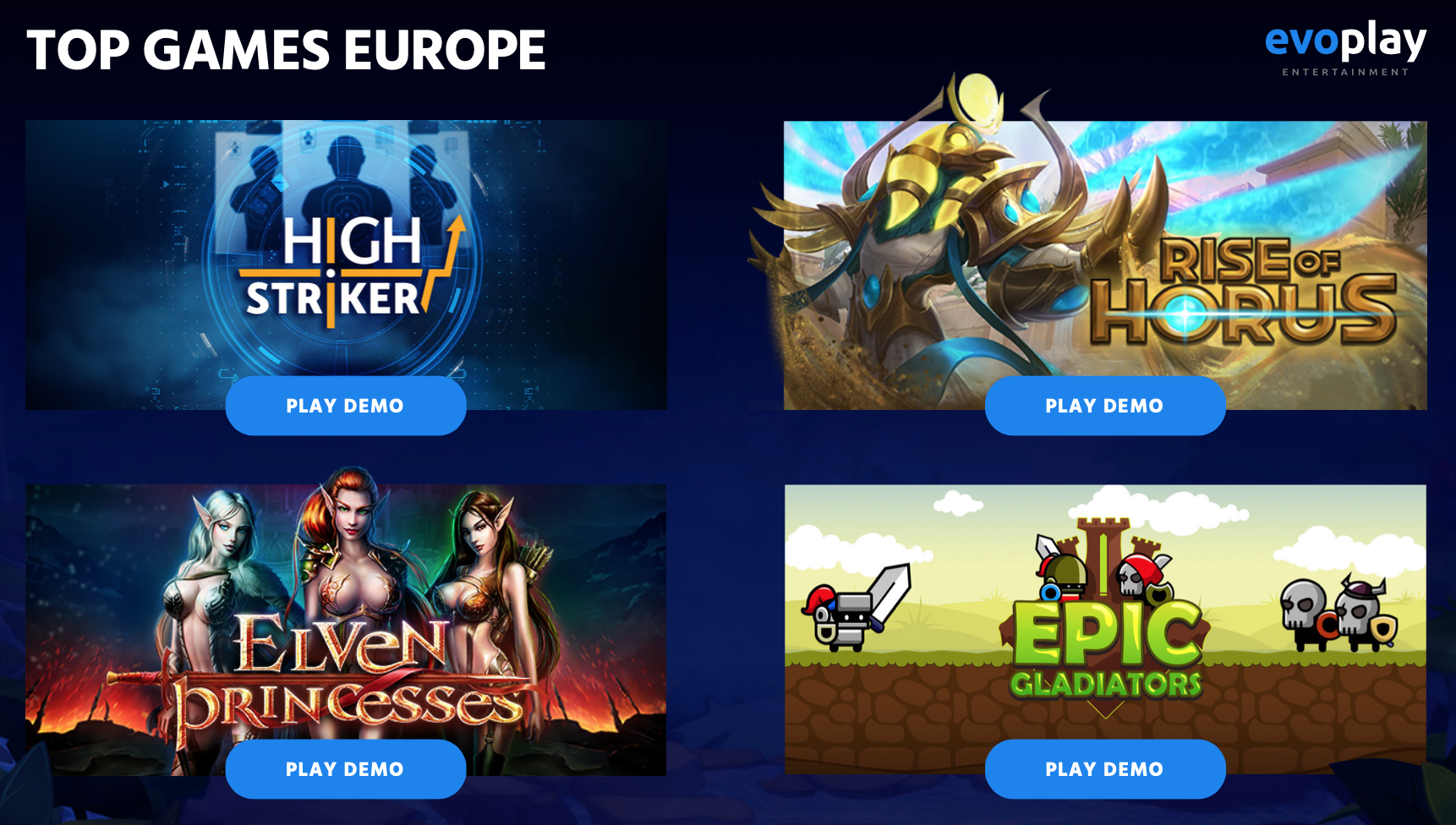 In another industry first, we are proud to release the first-ever RPG (role playing game) inspired slot.
Designed to be HTML5 mobile- perfect for handheld gaming,
the player takes the role of the game's hero, with a third-person fully 3D сamera tracking the player's adventure throughout the game.