About the Provider
EvoPlay is an innovative iGaming software developer that prides itself on putting players and quality entertainment first. Their evolution since their establishment in 2017 has earned them a reputation for going beyond traditions and pushing the boundaries of technology when it comes to developing games with high-end graphics, unique features, and creative storylines.
EvoPlay's History and Background
EvoPlay came into the world of gaming in 2017 when the online casino landscape was just beginning to rise and modernize. The industry was widely open for any developers with a mission to revolutionize the way games are played. EvoPlay founders quickly realized the potential to break into the scene by focusing on innovative technology and distinct, creative themes that will grab players' attention.
Their impressive growth over the years can be traced back to their unwavering commitment to their games' graphics, visuals, and overall quality. EvoPlay stood out by emphasizing visual aesthetics and their slots' technical structures to truly find their identity as a provider.
In the ever-changing world of online gaming, only a few companies manage to exemplify themselves and establish a name and niche that lets them stand out, but EvoPlay has managed to do that even in just a few years since its inception. 
ADVANTAGES
Evoplay Entertainment aspire to develop reputable products to ensure users get the best playing experience. Our key philosophy is to create remarkable uncompromising things that will make the gaming experience better. Evoplay are open for cooperation and ready to bring any customer's ideas to life.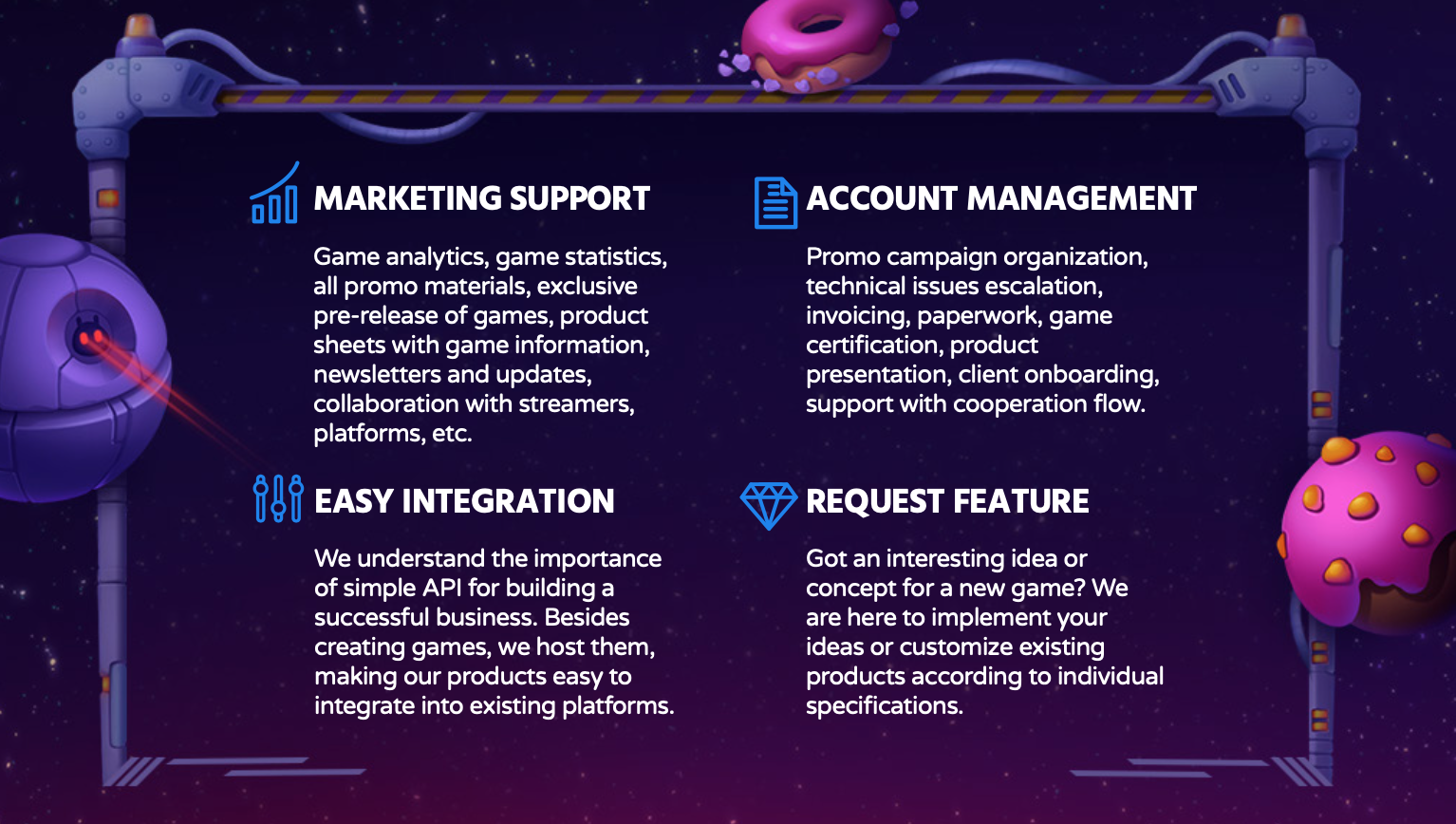 FULLY MOBILE AND TABLET ADAPTIVE
Our games have an adaptive design capable to recognize device a player uses. Products seamlessly work on PC, tablets and smartphones. Enjoy playing our software on the go!
FULL HD
We manufacture online games that offer Full HD resolution, bringing animation and video effects to the whole new level. Today few manufacturers can boast of such feature.
FREE BETS MANAGMENT
The customers can always customize bet values (min bet, max bet, etc.) of our games according to their vision.
CURRENCY
Our games support all major currencies and crypto-currencies (106 e.g). Let us know what currency you would like to work with.
LANGUAGES
Our games are available in 6 languages. We always can add any new language on customer's request.
AAA QUALITY We offer AAA online games developed with the highest development budgets and resources. We aim to create exceptional playing products for successful business.
OUR ADVANTAGES MARKETING SUPPORT
Game analytics, game statistics, all promo materials, exclusive pre-release of games, product sheets with game information, newsletters and updates, collaboration with streamers, platforms, etc.

EASY INTEGRATION
We understand the importance of simple API for building a successful business. Besides creating games, we host them, making our products easy to integrate into existing platforms.
ACCOUNT MANAGEMENT
Promo campaign organization, technical issues escalation, invoicing, paperwork, game certification, product presentation, client onboarding, support with cooperation flow.
REQUEST FEATURE
Got an interesting idea or concept for a new game? We are here to implement your ideas or customize existing products according to individual specifications.
The Best EvoPlay Games
Rather than sticking to a singular design style, EvoPlay championed diversity. The company ensured something for everyone from classic slots reminiscent of traditional fruit machines to elaborate, story-driven offerings. Here are some of their most popular games:
Dungeon: Immortal Evil: This slot is one of the most popular slots by Evoplay and is set in a dark and mysterious dungeon filled with mythical creatures and treasures. It showcases the provider's impressive 3D graphics and is loaded with multiple bonus features alongside an intriguing storyline that entices players.
Necromancer: Necromancer is another dark-themed slot by EvoPlay featuring a spooky graveyard and mystical symbols. It stands out with its unique gameplay mechanics and bonus rounds, including free spins and expanding symbols.
Epic Gladiators: Journey back to ancient Rome, where Epic Gladiators offers an action-packed slot experience that takes you into battle. The game includes various gladiator characters and exciting bonus features, such as the Battle Feature, where players can win big prizes.
Rise of Horus: Meet the iconic god Horus as you play this visually striking Egyptian-themed that offers players a chance to explore ancient Egyptian treasures through free spins, expanding symbols, and bonus games.
Sprinkle: For a more whimsical and colorful experience, Evoplay's Sprinkle slot game is a popular choice. Sprinkle by EvoPlay features a colorful, whimsical theme and aesthetic that introduces you to adorable characters. With cascading reels and a unique leveling system that can unlock special features, this game is the popular choice for a cheery good time and big rewards.
TOP GAMES ASIA
TOP GAMES EUROPE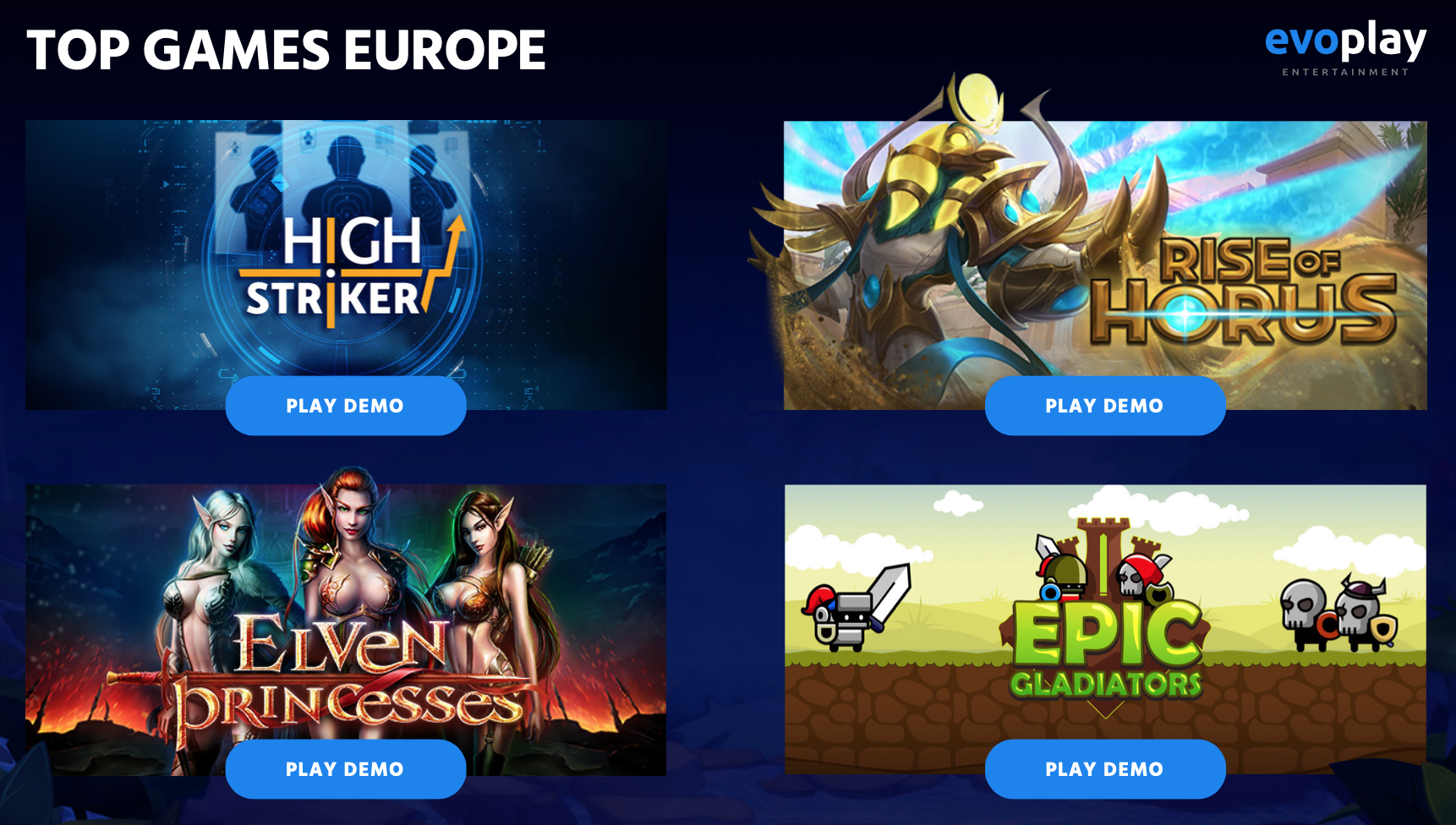 In another industry first, we are proud to release the first-ever RPG (role playing game) inspired slot. Designed to be HTML5 mobile- perfect for handheld gaming, the player takes the role of the game's hero, with a third-person fully 3D сamera tracking the player's adventure throughout the game.
Game Technology and Statistics
EvoPlay might have a different long history than some of the stalwarts in the online casino industry, but their innovative approach, embrace of new technologies, and dedication to user experience have made them stand out.
Unique Game Themes and Mechanics
EvoPlay's portfolio is filled with diverse themes, ranging from the traditional (like fruits and jokers) to the modern and futuristic. This gives players a wide variety to choose from and ensures that there's something for every player's preference.
3D and VR Slots
One of EvoPlay's standout innovations is the development of 3D and Virtual Reality (VR) slots. With the emergence of VR technology, they were among the pioneers to see its potential in the online gaming world. These games offer an immersive experience, taking players into a three-dimensional gaming world. Their game 'Necromancer', for instance, was one of the industry's first full-3D VR slots.
Security and Fairness
Beyond just the gaming experience, EvoPlay also invests in ensuring their games are secure and fair. They employ Random Number Generator (RNG) technology, which is regularly tested and certified, to guarantee fair gameplay. EvoPlay has also secured certifications and licenses from various jurisdictions, underscoring their commitment to fairness and legality. Each certification is a testament to the company's dedication to providing a safe and reliable gaming experience.
Advanced Math Models
Behind every game lies a complex mathematical model determining game outcomes, bonuses, and player rewards. EvoPlay uses sophisticated algorithms to ensure fair gameplay while also allowing them to design games with varying volatilities, catering to different player preferences.
Scalability and Integration
One of EvoPlay's priorities is ensuring their technology is designed to be easily integrated into various gaming platforms to make games easily accessible to audiences. The ease of integration and the scalability of solutions make them a preferred choice for many casinos.
EvoPlay Slots with the Highest RTP % (Return-to-Player)
EvoPlay, with its advanced math models, can offer games with varying RTP (Return to Player) percentages so players can choose games based on their risk preference and payout expectations.
Elven Princesses: This enchanting slot game inspired by epic fantasies offers not only a captivating theme but also a competitive RTP percentage of 96.4%, providing players with a good chance of winning over time.
Rocket Stars: Rocket Stars, set in space, is a 5×3 slot with medium to high volatility with an RTP of 96%. The game's futuristic theme and special features made it popular among players looking to play with the stars.
Atlantis: Dive into the mythical world of Atlantis with an RTP of 95.93%. This underwater adventure slot was known for its visually appealing graphics, engaging gameplay, and thrilling cluster pays system that can get you massive wins.
Forest Dreams: This slot whisks players away to a mystical forest with medium volatility and an RTP of 96%. The game introduces you to various magical creatures, bonus rounds, and soothing music that complements the enchanting theme.
Fruit Supernova: Fruit Super Nova is a classic fruit-themed slot with a modern twist. This slot is equipped with low to medium volatility and an RTP of 96.03% and offers bonus rounds and special features to make gameplay more exciting.
Most Popular EvoPlay Casinos
Recognizing the international potential of online gaming, EvoPlay made early strides into various global markets and has partnered with prominent casinos worldwide. They adapted their games to support multiple languages and currencies, ensuring broader accessibility and reach.
Conclusion
EvoPlay has flourished in the online gambling industry since its establishment in 2017 and has done it at an impressive pace. Their strong commitment to the players and the quality of their releases have earned them a spot as one of the running contenders in innovating the entire gaming landscape one slot at a time.
EvoPlay has continued to grow beyond the standards for any relatively new developer due to its forward-thinking approach and a good sense of understanding that players come first. With their dedication and passion to provide exceptional gaming experiences, EvoPlay is en route to sustaining their success.
Where to Find EvoPlay
Facebook: https://www.facebook.com/evoplay.games
Twitter: https://twitter.com/EvoplayGames
Instagram: https://www.instagram.com/evoplay.games/
YouTube: https://www.youtube.com/channel/UC14e8mgpt2xlNa9Sh9NHSmQ
Website: https://evoplay.games
LinkedIn: https://www.linkedin.com/company/evoplaygames/
Email: [email protected]
Company Address: Klovs'kyi descent, 7А, Kyiv, Ukraine, 02000